Is your drinking OK?
This advice is designed to help you make an informed choice and help keep your risk of alcohol-related accidents, injuries, diseases and death low.
Low-risk is not, however, no-risk. Even when drinking within the low-risk limits, a range of factors can affect your level of risk including if you drink too quickly, your body type or genetic makeup, your gender, existing health problems, and if you are young or an older person.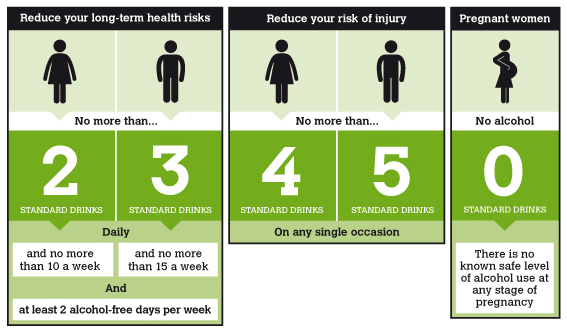 Your drinking
Tips for low-risk drinking
It is possible to drink at a level that is less risky, while still having fun. There are a number of things you can do to make sure you stay within low risk levels and don't get to a stage where you are no longer capable of controlling your drinking.
These include:
Know what a standard drink is
Keep track of how much you drink - daily and weekly
Set limits for yourself and stick to them
Start with non-alcoholic drinks and alternate with alcoholic drinks
Drink slowly

Try drinks with a lower alcohol content
Eat before or while you are drinking
Never drink and drive
Be a responsible host
Talk to your kids about alcohol.
If you or someone you know needs support and treatment to reduce their alcohol intake, call the Alcohol Drug Helpline on 0800 787 797 for free and confidential advice.